Turn this place into a private getaway. >:)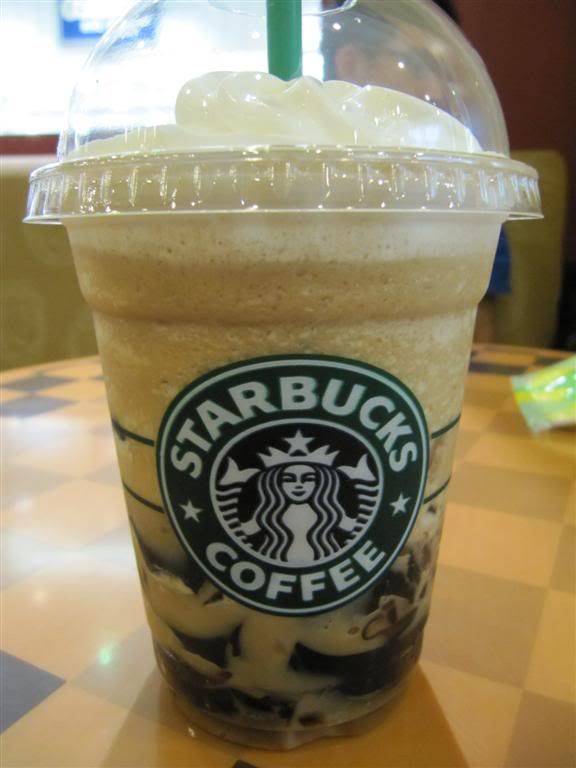 Starbucks =
<33333333
*Mocha Frappe - Coffee Jelly*
Damn those sweet memories.
Not that I curse them, but I just hate remembering them. The dream I had this morning everything fall over. I'm starting over again - back to patching the shattered pieces of my frail heart. Yow, ang
emote
. :)) Well, that bit was true, really.
My loves die before they're even born. :/
Screw
LOVE
.
Took a
lot
of
EXAMS
. Lemme name them. Quizzes namely in
AP
,
Science
,
Math
,
Health
*We took two.*
and a post test in
Filipino
. That isn't allowed right? They wouldn't care rin naman if they knew. Everythings topsy-turvy now, isn't it? :o dmn. If we're not playing daw - during the palaro, according to
Dustine
- we would be having classes. That's way too overboard already. Grr. They've been taking a lot from us. What's the use of all those expenses?
Had fun conversing with
Jed, Ate Djoanna and Aldwin
. We shared a lot of stories, more on Jourdese and Mirro, actually. =)) Here's one. :P
Mirro:

Squid;

Jourdese:

Fish.
Sinubo?! ni Jourdese yung ballpen niya kay Mirro.


Mirro:

Bakit mo isinubo sa'kin?


Jourdese:

Malalagyan mo ng tinta eh!



Mirro:

Still a squid;

Jourdese:

Still a fish;

Jared:

The teaser.
toooooooogsh! Nadapa si Mirro.


Jared:

Ano ba yan Mirro, ang dami-dami mong galamay eh!
---


Jared:

Mirro, eight na lang jersey number mo. Walo naman galamay mo eh.

Okay, yeah, I know. That was corny. Well, that made me laugh anyway. Paolo's too eager to go out. He's the one planning the IP meeting now. What a change. Ano kaya nakain nun? Kidding. :D But yeah, he must be
really
bored to give that much effort when he could just go to a comshop and play there. Why did he choose to do the IP anyway? What's up? Honestly, I don't know a thing on it.
I'm excited with our jersey. It seems pretty good to me.
Maan is the bomb!
<:P Syempre naman, anak ko ata yan! Hahaha. That's just our funny joke. She calls me
Mamma
everytime she spots me. She mimics a break-down-and-cry sob and tells me,
"Mamma! Bakit kayo nagbreak ni Papa -insertnamehere-?"
I was like,
"Whatever, daughter."
But I just say nothing and comfort her. She doesn't have a
father
anyway. ;)
I forgot our team name. Again. Ang haba kasi eh! The word is so sophisticated. Or maybe that's just my mind? I don't know. Hahaha. Sorry for that. =p~
Just chatted with
Paolo
,
Cathleen
,
Dustine
and
Kirk
.
Kirk had a motive, definitely. And I was right. He asked me what my jersey number was for someone. WTH. He said it was because that person wants to have the same jersey number with me. Whatever. I wont react na lang.
Anyway, he was waiting for someone. And I think I know who it is. She's on a while ago, but she just went off. I didn't notice. He said this before he dozed off,
"geh alis na ako ha..la na nman sia eh..bkas ulit"
.

Okayy. Good thing we have no assignments for Monday. It would be a total time for me. Wohooo!
Good night everyone!
I'm off to hit the sack.
Quote of the Day:
Love is everything it's cracked up to be… It really is worth fighting for, being brave for, risking everything for.
Drifting off into the candlelight,
Charm. ;p