He knocked me breathless. I was dazed.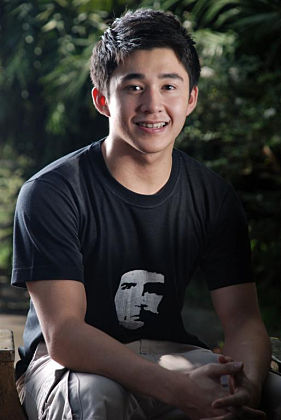 Arron Villaflor is sooooo hot! Hahaha. May bago na naman akong kinahuhumalingan. XD Grabe, ang gwapoooo! Superrr. Ang galing pa umarte. The only thing I hate about his role is that he's
always pushed by his older brothers
. Other than that, everything fits. He's handsome, nice, holy *:)*, and romantic. Lol. Waiting for two hours is worth it! The play is sooo wonderful. It was funny, romantic and of course, unique. XD
Arron Villaflor is Love. ♥
It was a very long day. And I'm gonna tell you every single detail that I could recall from it. :]
I woke up 6:01 in the morning so I am late. I quitted fixing my things last night 'coz I was really knocked out. So I was stucked with them in the morning. I ate my breakfast while fixing my things and I had a hard time to do it. Our service came and we entered school grounds.
When I reached our classroom, I first thought of taking pictures. I might as well use the hell up of my camera before it gets lowbatt. And so, I did take a lot of pictures. With friends and such. I went to my locker to fix it and place my knapsack there but I had a hard time. My locker is filled with too much books because I share it with someone. Then, after a couple of minutes, we are asked to fall in line and go downstairs according to our buses. I am in
Bus # 8
and I'm with a lot of people; good ones. :)) that knows how to have fun.
We rode on our bus - should I call it van, then, for it is a van? - and we talked about a lot of things. At first, I just ate and ate and ate. After eating, I lolled and talked. We had fun there, or atleast, I did.
Upon reaching SM Southmall, we made our usual noise. As we walk through the entrance doors, which are still closed by the moment, we took pictures and talked about our guesses about the play. We waltched as the other schools reach SM and we looked for handsome guys, though I found
none
.
Alas, the door was opened and we entered. We were the first (Dalton Class) to reach the line wherein we are about to enter. Though we weren't considered the first, we still had a good view of the play. The play was awesome.
I was really dumbfounded at the intro.
The dancers, riding their fake horses were funny, but the steps were all complicated but really enough to make your mouth fall.
Don Pedro and Don Diego were the . They made the play laughable. :)) I thought the actor which is Don Pedro is really Don Diego because of his gesture, but the truth is, it's the other way around.
Don Juan
, on the other hand... is the
handsomest
of them all. XD Sorry, but it's true. Going back, he acts well and has an accent different form the others. He has those muscles, when it was time to remove his sweater... or whatever you call it, people - most especially the girls - just got wild. *wide grin* The one who played Ibong Adarna was great too. We thought it was only something too plain but it isn't.
The one who played Maria Blanca was pretty. Some said she isn't, though. Maybe that's only because they
envy
her. XD But she really is pretty. Lol. And the ending was so great. They were married and she was freed from Crystalis or something close to that. By the way, that is the kingdom where Maria Blanca is from. She is the princess there. The set there was like disco because of the lights and the disco balls. :b Parteeeyyy!
After the play, our school and the others were acknowledged. Then, we went out and we bought food. We went to starbucks to buy some drinks and it was delicious! :3 Yum. Strawberries and cream, mehn. Sarap.
Then, that's the day. Hahaha. Haba noh? Yun lang naman pala. Thanks for reading, huh? :-h
I even fell for that stupid love song,
Charm. :/